The results of the Prison Break Slash Fiction Awards - round 2 - have been posted and can be found
here
.
Hm, *squees a bit and clasps* I tied with
tuesdaeschild
for best slash author *hugs Foxy*
Many, many thanks to everyone who read, commented, nominated, voted... and special thanks to the patient, lovely people who beta-read for me *waves at
recycledfaery
,
happywriter06
,
torigates
and
tuesdaeschild
who had to put up with slash
and
creative grammar*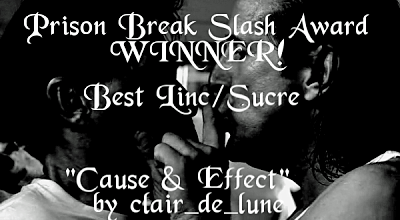 Cause and Effect
won in the Lincoln/Sucre category. Okay, it was the
only
nominee in the Lincoln/Sucre category so the competition was not too harsh ;-) Still, the nomination made me very happy because, Lincoln/Sucre, really?! So thanks to whoever nominated it in the first place ♥
Congratulations to all the winners and nominees, and huge thanks to
haloisbent
for organizing the whole thing!
Current Mood:
grateful